Steve Hopkins Honda and Hopkins Acura are proud to be strong supporters of our community through fundraisers, donations and volunteers.  We believe that giving back to our community is critical in furthering our goal of supporting children and residents in Solano County.  Following is a list of some of the organizations and events we have supported over the years:
    * Advocates for the Arts
    * Fairfield Atlantic Little League
    * Celebrity Waiter Fundraiser with the Fairfield
    * Community Services Foundation and Fairfield Twilight Rotary Child Haven
    * Fairfield Chamber of Commerce
    * Fairfield Community Services Foundation's Fun on the Run program
    * Fairfield Skate Park
    * Fairfield Suisun Rotary Club
    * Justin Sienna High School
    * NorthBay Healthcare's Wine and Food Jubilee
    * Notre Dame School in Vacaville
    * Fairfield Pacific Little League
    * Solano Coalition for Better Health
    * Solano Kids Insurance Program
    * Solano Magazine's Classic for Kids Fundraiser
    * Soroptomists of Fairfield
    * Sutter Regional Medical Foundation
    * Sutter Solano Medical Center
    * Vacaville Chamber of Commerce
    * Vacaville Christian School
    * Vacaville Pony Baseball
    * Vallejo Chamber of Commerce
    * Vallejo Jazz Festival
Fairfield Pacific Little League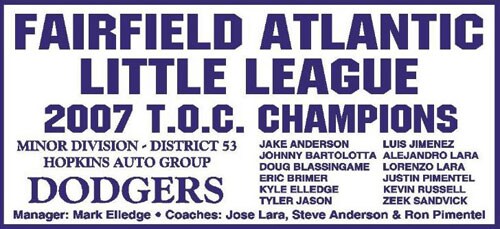 We are a non-profit organization serving the Fairfield California area. Fairfield Pacific Little League (FPLL) provides a fun activity for boys and girls ages 5 - 12 where they are taught the techniques and skills of little league baseball while gaining self-confidence and social skills. Children are placed on teams managed by coaches in the appropriate division--T-Ball, Farm, Minors, Majors--according to age and/or skill level and play against other teams. The older divisions are more competitive and offer children the opportunity to play beyond the regular season in tournaments such as the Tournament of Champions (TOC) and the Little League World Series. 
Vacaville Pony Baseball
CONGRATULATIONS BRONCO BLUE TEAM
2008 EAST BAY SECTIONAL CHAMPIONS!
"Teaching and Playing the full Game of Baseball"
There are currently over 375 Major League Baseball players who are graduates of PONY Baseball. Mark McGuire, Tony Gwynn, Alex Rodriguez and J.T. Snow are just a few of the Major League players who participated in PONY Baseball...so why is PONY Baseball the right league for you?
PONY is an acronym that stands for Protect Our Nation's Youth, and is designed to help young people grow into healthier and happier adults by providing positive experiences in youth baseball to boys and girls ages 7-18. If you are interested in an organized league that allows players to develop incrementally to their fullest potential, by playing the complete game of baseball with Major League Rules, then Vacaville PONY Baseball is the League for you.
What are the advantages of PONY Baseball?
   1. No Boundaries - everyone in Vacaville is eligible!
   2. Real baseball starting at age 9 with leading off, pitching from the stretch, balks, dropped 3rd strike - all the Major League Rules!
   3. 7 & 8 year olds play kid pitch all season.
   4. 2 year age brackets
   5. Age specific field sizes: 50' for 7-8 yr olds; 60' for 9-10 yr olds; 70' for 11-12 yr olds; 80' for 13-14 yr olds; 90' for ages 15 & up
   6. Equitable distribution of players for evenly matched teams
   7. Official, paid umpires
   8. Quality coaches participate in coaches' clinic.
   9. Ages 7 and up eligible for All-Stars
  10. All star teams participate in local and area tournaments
  11. Pinto (7-8) All-Star Teams can advance to state championship
  12. Mustang (9-10) and older All-Star Teams can advance to International World Series
  13. City maintained fields at Keating Park
  14. Season runs February through May with All-Star Tournaments beginning in June
  15. We stand by the PONY motto that "if you teach kids to play by the rules, they will learn to live by the rules."      
Vacaville Pony Baseball Association is committed to creating good memories for our players and their families. Our Code of Conduct is a tool to help us create a safe and positive learning and playing environment for them.